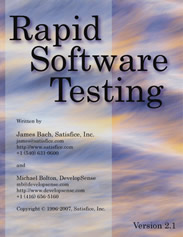 In the first part of our interview with Michael Bolton, we grilled him on the emergence of the Weekend Testers, sensible metrics, Michael Bolton the pop star and a bunch of other topics. In part "deux" of our interview, we tackle the necessity of tester passion, how emotions affect testing, and the greatest threats to the profession. Check back tomorrow for the final segment.
uTest: There's a lot of passion amongst testing thought leaders about the best way to test, or the best way to manage or train testers.  Often that passion overflows into heated debates.  How can this passion best be channeled to improve the state of testing?
MB: First of all, we should welcome debate, and we should welcome skilled argumentation as part of the art of construction and practice of persuasion. I've found, though, that it helps to remember that we're exploring and challenging ideas. That means it's good not to get too personally invested in certain ideas, because we're always learning more, and because changes in context can mean big changes in what needs to be done.
That said, there are some ideas that seem robust for me. I believe that it's unethical to dumb down people or the work that they do. I believe that we should focus our craft on learning, and learning how to learn rapidly. How can we improve the state of testing? By recognizing that software development is a web of people who are related in service to each other. That means putting people and social issues first. Get that right, and everything else will follow.
Suggestions are cool.  Standards are something else.  No group should be dictating to other people how they must test unless there are compelling human health and safety reasons for it. Do you really believe that the standards people know anything useful about your business? That the force of government-supported regulation, created by busybodies, should weigh on how you do your daily work? And if your answer is No, what are you going to do to get it stopped?